Painted walls: a tradition that doesn't date back to yesterday
Place de la Reunion enthrones the Hôtel de Ville: one of the oldest painted walls (or rather buildings) in the city! Built in 1552, its facade was decorated the same year.
On Reunion Square again, and on Henriette Street, the tribal houses offer their ornamented facades, while the Mieg house tells a piece of Swiss history.
Much more recent, other painted walls still tell of the city's past: on Rue Jacques Preiss, a fresco by Dyminski celebrates the bicentennial of Mulhouse's reunion with France, while on Avenue Kennedy, chemistry is honored by the same artist.
Painters have given free rein to their imagination in many places: the very colorful Inti's Sower near the Market, the trompe-l'oeil of the Cour des Maréchaux, etc.
At the bend of almost every alleyway, art is omnipresent on the walls of Mulhouse!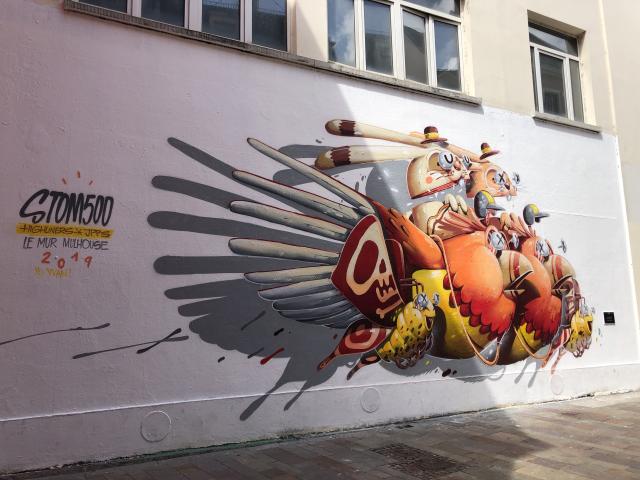 Sculptures, installations: street art in 3D mode
The sculptures line the city as so many intimate and original works to discover, while urban projects are also "dressed" by exclusive creations.
In front of Porte Jeune, Yves Carrey's "Schweissdissi" echoes the eponymous statue at Tivoli Park built in 1905.
The work of Livia de Poli brings color in front of the Fine Arts Museum, while Sébastien Haller declines his playful universe in a dynamic sculpture installed at the Mulhouse Zoo.
Mulhouse also features cows in front of the town hall, sheep Porte Haute, and characters "without little wheels" cours des Franciscains.
As for Buren's Tram / Trame arches and Reynaud's columns, they are among the city's most emblematic works, and bring it a new dimension.