More than 300 merchants: everything (or almost everything) can be found at the market!
The Mulhouse market is two different and complementary universes that settle, three times a week, at the Quai de la Cloche.
On one side, the textile and bazaar. Here, it's the kingdom of gaudy fabrics, bags of all shapes, makeup, dishes…
On the other, food and horticulture. Fruits and vegetables, meats and fish, wines and cheeses, flowers and spices, specialties from Alsace, Italy and the rest of the world, delights to be savored without counting.
The common point between these two spaces? The abundance of choice, the friendliness of the shopkeepers, the quality and diversity of the products, the loyalty of the customers.
In the hall or outside, it's good to stroll around between the stands. Let yourself be tempted ☺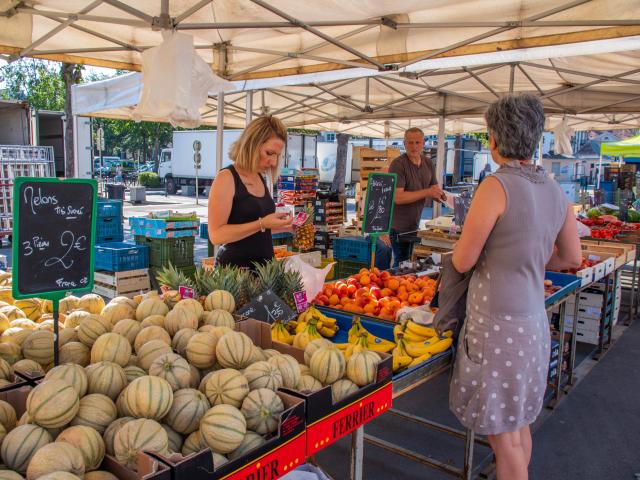 Experience the market like a true Mulhousian!
Saturday morning is the best time to discover the market. We tell you.
8:30 am: arrive at the market, take a tour on the haberdashery side and choose the fabric for your new dress, or a new shell for your phone.
9 am: disembark on the food side. Explore the aisles on the left to discover small producers, and stock up on tomatoes from their garden, or plums from their orchard.
9:30am: need lots of vegetables? Exotic fruits? The merchants in the middle aisle have just what you need.
10:00 a.m.: a break is in order. Enter the hall and have a coffee, at the counter, elbow to elbow with the merchants and other market customers.
10:30 am: it's time to choose your cheeses, your fish, your antipasti, your little Moroccan (oriental?) cakes, your spices: it's all there! Dreaming of cooking your first Alsatian dish? Many stands of local pork butchers offer their homemade specialties …
12:00 noon: shopping finished ? Go and enjoy a good sauerkraut at the restaurant "Aux Halles du Marché", or take a chicken yassa at one of the food trucks outside that you will take away. And don't forget to taste the selection of the day at the sommelier's!"